Dont forget to tune in into the episode Saturday August 20th on Nickelodeon!
Hello Sweet Babies,

I am not sad that TJVP has ended, it was a great show, we set out to have fun and that is just what we did !!! We all got along, there was no fighting behind the scenes and I can honestly say that filming TJVP was one of the best times in my life…….but nothing last forever, and I am very much looking forward to my new film projects, new album, and being 18 , YAY !!!!!! Please continue to support all that I do, and my relationship with Nickelodeon is not over it's just different, now I am blessed to be co-producing movies ( Rags) and doing voice over work ( Winx) so it's all good, thanks again to all of the fans for watching this show and to the creator of True Jackson V.P. , Andy Gordon, God bless you for creating a character like True, she was colorless , funny, smart, and vulnerable all at the same time , and what a honor it was having had the opportunity to make her come to life…….

Much Love,
Keke P.
The series finale of True Jackson, VP will air August 20 on Nickelodeon. Synopsis below! Be sure to tune in! I cant believe the show is ending.
Get ready as Amanda (Danielle Bisutti) gets married to Peru's greatest shortstop Brock Champion in Lima, Peru and the gang and Max all join for the big day. True and her friends soon learn that there is a $20,000 reward for a jewel stolen from the Museum of Peru–where Amanda is getting married! If True can find the jewel, she'll be able to start her own clothing line, but when Jimmy and Ryan catch wind of the reward money they want in too. A "boys vs. girls" competition for the missing jewel ensues, but trouble finds the gang, as 12-year old "Mr. Big"–the mastermind behind the jewelry heist–locks up the kids in a metal cage dangling over a volcano. The kids must find a way to escape to make it to Amanda's wedding in time!
A new track from Keke surfaced called "Melody For Cheaters". Im really feeling this one. Good tempo, good vocals looks like Keke scores again. If this song didnt make the album imagine how good the songs that are on the album will be.
Check out Keke's amazing cover of "I Could Fall In Love" by the late Selena Quintanilla.
Check out this video of Keke greeting fans In Vancouver, Canada while filming scenes for RAGS.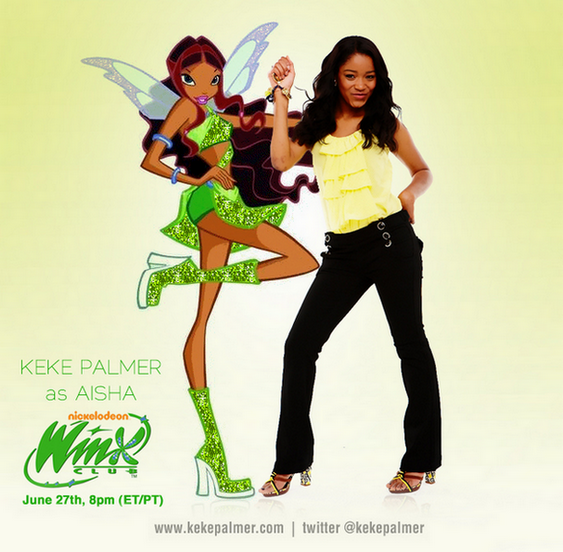 .
Launching first with four one-hour specials, followed later this year with a weekly series, Winx Club focuses on six best friends enrolled in fairy school as they face many adventures together with strength, smarts and teamwork. Culled from the first two seasons of the Italian hit series from Rainbow S.p.A, the four specials even include and feature the voices of some of Nick's biggest stars, including: Keke Palmer (True Jackson, VP) as Aisha; Elizabeth Gillies (Victorious) as Daphne; Ariana Grande (Victorious) as Diaspro; and Matt Shively (True Jackson, VP) as Skye; as well as Molly Quinn (Castle) as Bloom.

"How to Rock" star, Cymphonique Miller, performs the show's theme song, "Winx You're Magic Now."

Don't miss all the fun starting on Monday, June 27 at 8:00 p.m. on Nickelodeon!